Many of you have probably heard of Feng Shui, which consists of improving the general aspects of life making good use of aesthetics.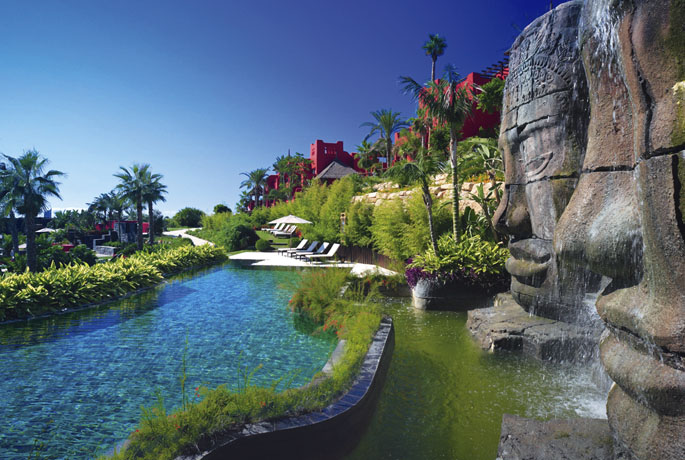 When applied to the interior design of our homes, in this case the design of the Barceló Asia Gardens, it's essential that there's uniformity when decorating, providing large quantities of balance, turning our homes into a pleasant and cosy place where we find our "shelter" and feel good.
One of the ornamental symbols of Feng Shui is the elephant, and of course at the Asia Gardens we have our own, also with its own story that comes from way back.
The elephant, located at the entrance of our gardens, used to be owned by more than twenty generations of an Indian family part of the Chatria caste, a caste of kings, queens and governing figures. This family governed for years the districts of Sikkim, one of the smallest states of the country, very close to the Himalaya. The family lost part of its power and its wealth towards the end of the last century, and they were forced to give away some of their land and jewels, among them, the elephant that nowadays welcomes you at the entrance of our gardens.
The image of the elephant, the largest living animal, and one of the strongest and most intelligent ones, holds a very particular symbolic meaning: protection, good luck, wisdom and fertility which are the concepts represented by this majestic figure.
But the part of the elephant of highest significance is its trunk, the trunk they use to drink, eat and defend themselves with…It can be represented twisted with the trunks of other elephants, which symbolises eternal friendship, but it must always look upwards as a sign of good luck: an upwards trunk will help spread positive energy at home, and in this case, also in our gardens.
As well as good luck, we hope that our elephant Sikkim brings you protection during your stay in our luxury resort at the shores of the Mediterranean, showing you respect and humbleness. In order to make the most out of the protection offered by this majestic figure, and in order to apply a sample of Feng Shui philosophy in your homes, you must always place your elephant at the main entrance, or in our case, at the entrance of our gardens.
When you come to visit us, don't forget that at the Asia Gardens every last detail has been taken care of….and, our elephant shall bring as much luck to you and protection as you may need.
As always…we look forward to seeing you at our luxury hotel in the Mediterranean Sea.