THE FACES OF ANGKOR AT THE ASIA GARDENS
At our fantastic 5-star luxury hotel, we would like you to feel as if you were in Asia and that is why we have brought straight from there a 4-metre-long and 9-metre-wide duplicate of the faces of Angkor .… one of the most emblematic images of the Asia Gardens Hotel.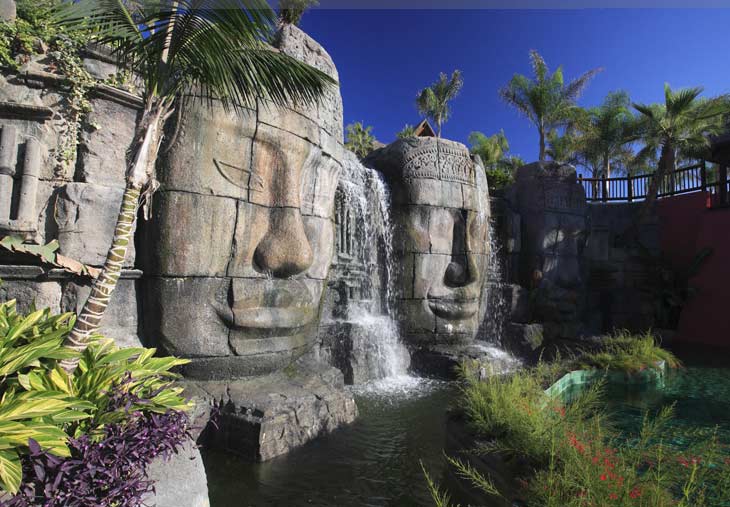 The main pool, in our swimming pool area, is the Faces of Angkor pool, which will remind you of the most traditional Cambodian architecture. You cannot miss out on it; it is heated all year round to help you enjoy it whenever you feel like it.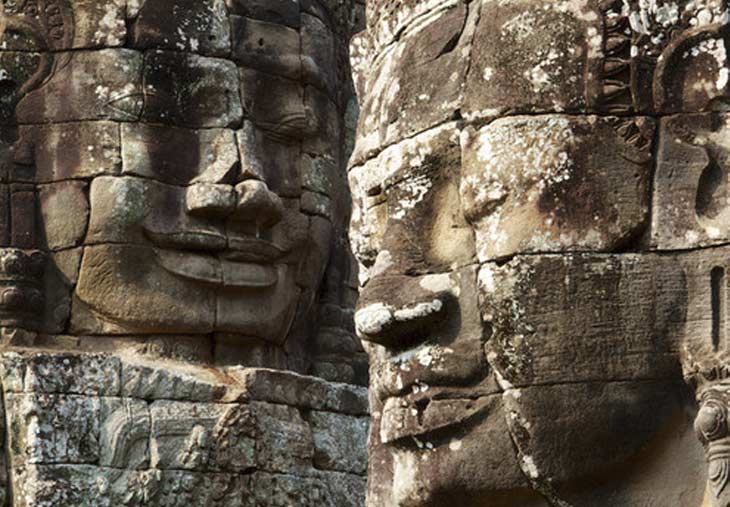 Do you know where these famous faces come from?
The smiling faces of Angkor can be found near de Cambodian city of Siem Reap, in the Bayon temple. The enigmatic Bayon is located in the centre of Angkor Thom, one of the largest cities in the world in the 12th Century.
Many Eastern legends are based on Angkor, as it once was a great empire and one of the most glorious civilizations in Asia.  Even nowadays, its ruins are regarded as some of the top architectural sites of all times.
This is a unique monument in the world which does not only represent a transition period between Hinduism and Buddhism, but it also consists of bas-reliefs which illustrate everyday life scenes in mythology of the Khmer (or Jemer) civilization.
The magnificent face towers of this site are considered UNESCO humanity heritage. There are approximately 54 towers with smiling faces which face the four compass points, and none of them show the same facial expression.
Who do you think these sculptures depict?
Some historians say they depict King Jayavarman VII, others think that they represent an enlightened being (Boddhisatva), some even think that a combination of both hypothesis is possible, stating that the monarch wanted to reinforce his divine condition.
At the Asia Gardens, 5-star luxury hotel, we would like you to come and see our copy of this Asian wonder at one of our pools, and also to learn about its tradition and fascinating history.
We look forward to seeing you…