ASIAN LUXURY
The East sets the pace, and today we are going to tell you a little bit more about the rise of the Asian continent and its upper and middle classes.
When China joined the World Trade Organisation (WTO), this marked a crucial moment in its fast take off on the way to conquer world economic hegemony.
Currently, the Asian giant is the largest luxury consumer in the planet, even larger than Japan, the US and Europe. Market studies carried out by prestigious labels predict that in just three years, 45% of luxury consumption shall be in the hands of the Chinese… this is the reason why the top managers of companies such as Vuitton, Gucci, Dior, Chanel, L'Oréal, Estée Lauder, Mercedes Benz and BMW, among others, already know what it takes to get a spot in the highly-valued Nanjing Road in Shanghai, the busiest shopping street in the world.
The latest report by the World Luxury Association foresees that designs are going to change and adapt to Asian consumers, tailor made for the Asian market, as Asian people have smaller feet with broader insteps and ankles.
The beauty standards established are also being taken over by the Asian giant, the model Liu Wen emerged from Peking to first-class catwalks in 2008, guided by Jean Paul Gaultier and Karl Lagerfeld.  In 2010, she became the first Eastern woman to take part in the famous Victoria's Secret fashion show and she also became one of the faces of Estée Lauder known worldwide. "Liu Wen is a contemporary beauty". Things are looking up for China.
There is no turning back. The next queues to enrol in language courses will no longer be to enrol in English but in Chinese.
On the other hand, South East Asia is another one of the region's leading the growth of luxury in the continent. Singapore keeps on being a local icon in premium markets, placed within the ten top luxury destinations to visit in the world. We must also add the increasing familiarisation with luxury of Malayan and Indonesian consumers, who are becoming more and more acquainted with this type of market.
Would you like to join the fashion of Asian luxury?
We are right in the centre of Costa Blanca, very near you, and we have true luxury to offer you, wonderful tropical gardens, large cascades, seven exuberant pools, exquisite Eastern cuisine and all sorts of commodities at your reach.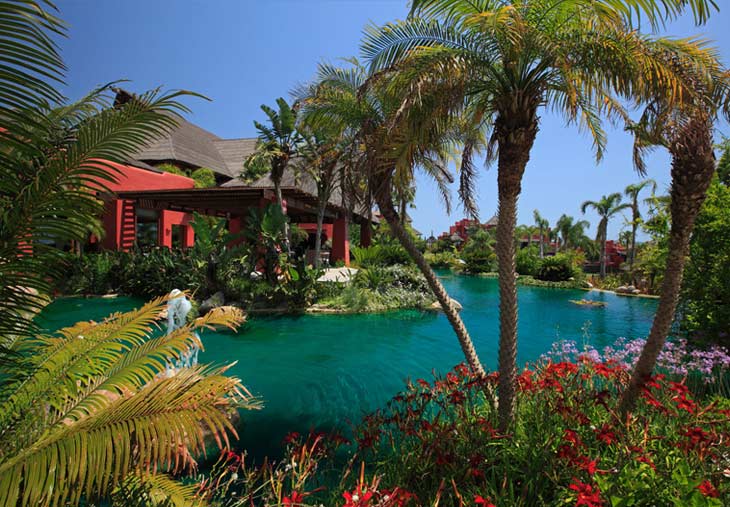 Come to our dream paradise, a true Eastern delight.
We look forward to seeing you.